4 tips from serial entrepreneur and restaurant consultant, Wilson K Lee.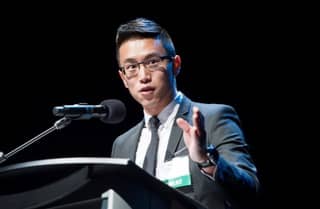 Give An Ovation is the number one resource for ad-free, bite-sized interviews with restaurant experts. For advice on how to build your brand, hire better, navigate COVID-19, and more, SUBSCRIBE! Available on all major podcasting sites:
**AVAILABLE NOW: COVID-19 E-Book: 7 Tips and 21-Point Checklist to Prepare For Reopening. Download Your Free Copy.**
—————————————————————————————————————-
Wilson K Lee is what they call a serial entrepreneur – and he's a successful one too.
He's one of BC's 30 Under 30, started and sold a tutoring academy, recently built and sold an award-winning ice cream business, and has over 30,000 followers on YouTube!
Throughout COVID, Wilson has been observing the market, consulting restaurants, and sharing his restaurant expertise online. This made him the perfect guest for Give An Ovation!
Wilson came prepared with four critical points he wanted to share. Here they are, briefly:
1. Get Up To Speed With Hygiene and Signage
Hygiene: It's obviously important to keep your restaurant as safe and sanitized as possible. But it's also vital that you make your efforts obvious to customers. Almost as important as the hygiene itself is the perception of hygiene. People won't go where they don't feel safe, even if it is.
Signage: Make sure people know you are open. If its unclear, or causes the customer any confusion, they will move on to somewhere they know is open. A good way to do this is utilize your empty window space.
2. Diversify Your Avenues Of Revenue
If you're still banking on 80-90% of your revenue coming from dine-in, you won't have much in the bank for long.
Dine-in is slow, and probably will be for a while, so make sure you're set up with other revenue streams.
Get on 3rd party delivery platforms, sell grocery items from your location, online courses, etc! It's worth it!
3. Base Your Menu On Omnichannel
Think about what items on your menu don't fit the delivery setting. Fries, for example, are soggy after a 20 minute drive.
You also don't need 20 items on your menu anymore, because that means 100 ingredients. Try to fine tune that to 10 items, especially ones with multi-serving ingredients.
4. Connect To Your Customer
Tell your story. Send email updates every week, or post Instagram videos, or do anything that allows you to disclose the hardships you are going through. This will help your fans feel like they are helping a good cause and that they are in this with you, and may even turn this pandemic into an opportunity that grows customer loyalty.
———————————————————————————————————————–
Thanks for reading! Make sure to check out the whole podcast, as well as other interviews with restaurant/business gurus by checking out "Give an Ovation" on podcast.ovationup.com, or your favorite place to listen to podcasts.
And don't forget to follow Wilson on YouTube and Instagram for more great content from him! Thanks Wilson!