Five tips on customer data, ghost kitchens, co-ops, and more from the owner of Ghost Truck Kitchen.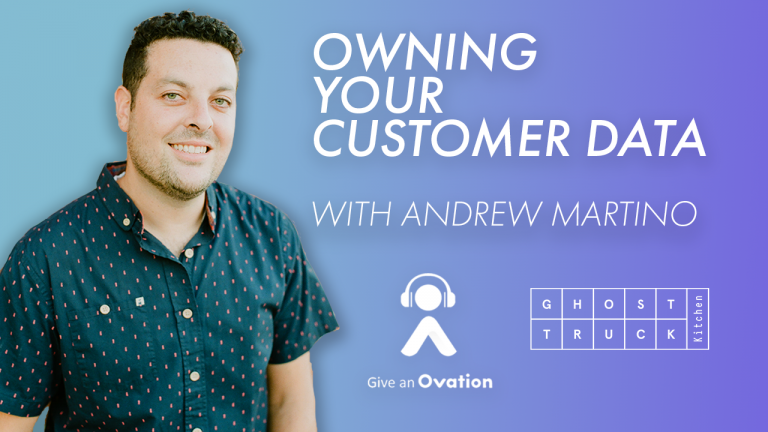 Give An Ovation is the number one resource for ad-free, bite-sized interviews with restaurant experts. For advice on how to build your brand, hire better, navigate COVID-19, and more, SUBSCRIBE! Available on all major podcasting sites.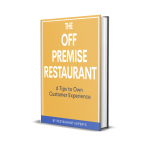 FREE eBook: The Off-Premise Restaurant
6 Tips from experts to find the "new normal" and own your customers
Andrew Martino is the founder of Ghost Truck Kitchen, the world's first digital food truck lot. He's on year three of running the 12 concept concept out of his 800 square foot location, is the owner of Martino Hospitality Services, is starting a New Jersey co-op, and knew Zack in high school. What a guy!
There was a lot of great info in this episode of Give an Ovation, but here are a few of the main tidbits:
1. Find Gaps In The Market
Andrew was able to determine which concepts to run out of Ghost Truck Kitchen by being very well versed in what was being offered in his local area. It was 2017 and he saw off-prem coming. There were cheap places, expensive places, but nowhere in the middle – so that's where he went.
2. Minimize Food Waste
The first step in minimizing waste is to track it. Andrew keeps track of how much he tosses each day and goes from there. Once he noticed they were trashing a lot of coconut rice, so he developed a new dish that would incorporate rice and become a crowd favorite, the Island Bowl.
3. Look For Local Co-ops
Restaurant co-ops are a great way to share the costs of off-prem and serve as intriguing alternative to delivery service providers. And if you're in the New Jersey area, reach out to Andrew!
4. Don't Let 3rd Party DSP's Weaponize Your Data
Andrew warned of a near future when platforms like Doordash start using all the data that restaurants have given them and promoting their own concepts. He understands why some restaurants use DSP's, but actively promote your own channels when you can!
5. Own Your Customer Data
Your customers are your business! You need to know who they are, and leverage that data from the beginning to the end of the customer journey.
———————————————————————————————————————–
Thanks for reading! Make sure to check out the whole podcast, as well as other interviews with restaurant/business gurus by checking out "Give an Ovation" on podcast.ovationup.com, or your favorite place to listen to podcasts.
For more from Andrew, you can find Ghost Truck Kitchen on Instagram, reach out to Andrew on LinkedIn, or email cheers@martinohospitality.com.
Subscribe To Our Newsletter
Get updates and learn from the best