What does it take to create an unbeatable customer experience? Great entertainment, personalization, and the tools to say "thank you"!
There's no denying that the ever-evolving retail, restaurant, and service industry faces more competition today than ever before. With big-box franchises encroaching and a growing dependency on e-commerce, small businesses no longer have the luxury of providing "just a product", or "just a service".
Take restaurants and bars, for example. Franchises and restaurants that are a part of a chain make up 32% of the U.S restaurant industry, and 5% (and very quickly growing) of that same pie will go to online orders. Even with emerging food delivery platforms that claim to boost profits for restaurants and be "owner friendly", restaurateurs and bar owners stand to lose out on sales due to massive service charges taken by the likes of Uber Eats and DoorDash.
Competition aside, any owner knows that winning the hearts of their customers begins with the first impression — especially since repeat customers spend 67% more than first timers when visiting your business. Restaurants lose big if they don't hit it out of the park on the first visit. Customers that had an average or sub-par experience are less likely to come back, won't tell others about the business or, if unhappy enough, will share their negative experience in person and online.
How much do negative reviews matter? 22% of customers won't go through with a purchase after reading just one negative review — 4 or more negative comments result in losses of nearly 70% in potential customers. Negative experiences spread like wildfire; American Express reports that customers tell an average of 15 people about a poor service experience, and only 11 people about a good one.
What can you do to improve the customer experience?
From the moment a customer walks in, the space needs to tell the story of your business. Ambiance and "aesthetics" are driving factors behind choosing a restaurant, especially for millenials. Of course, it's not a one size fits all solution. Is the atmosphere supposed to be bustling, busy, and fun? Or quiet, intimate, and serene? Fitting the decor, entertainment, lighting, and layout to the driving forces of the business not only creates an environment that your target customer enjoys, but sets up employees to provide great customer service. After all, 7 out of 10 U.S consumers would prefer paying more money for better service. Customer engagement needs to be top of mind for the savvy business owner.
Technology has given restaurateurs a lot more power in crafting the visual experience than before, such as with digital signage that is customized for your business. Atmosphere allows business owners to display promotions and menus on TVs in their establishment with Digital Signage, and free channels to stream. This means that customers don't have to guess, squint, or struggle to figure out what your business is offering, and are fully aware of promotions, specials, and upcoming events.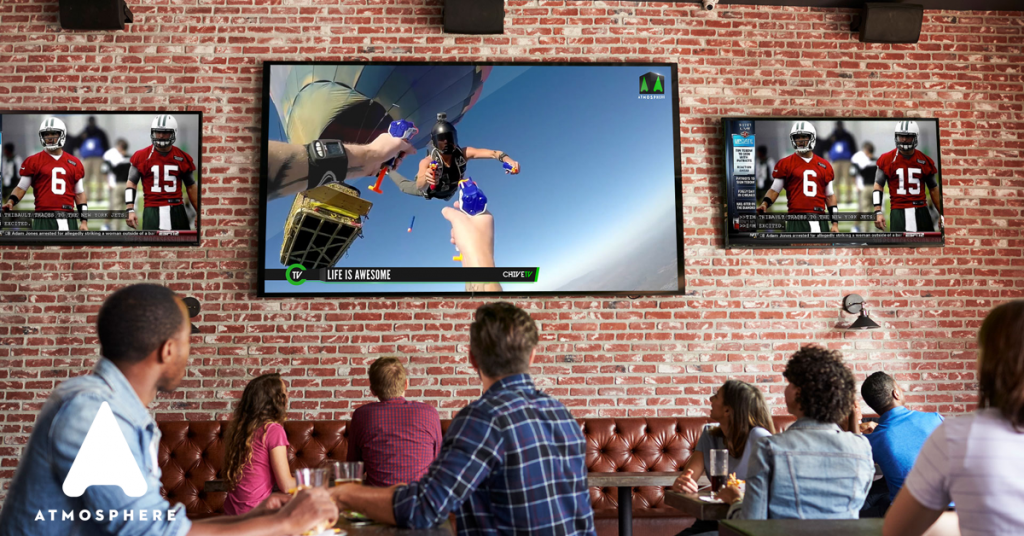 Customers also want to be entertained throughout their experience. Atmosphere's family friendly channels — including funny videos, animal videos, golf, skiing, and more — provide the unique opportunity to show engaging content without paying high fees. A business that switches from Comcast or DIRECTV to Atmosphere saves over $1,000 / year. Forget talking heads and worrying about TV volume, as Atmosphere's channels are audio-optional so they fit any ambiance.
How do I bring customers back?
The customer experience doesn't end once they leave the business — restaurant and bar owners need to stay top-of-mind for past customers, otherwise they may forget to return (even if they had a good time!). That's why business owners need to make use of every option to retain customers — email, SMS, and more.
Ovation makes it seamless for customers to give feedback, leading to more 5-star reviews, seized promotions, and return visits. You can set up a loyalty program in minutes to engage customers and encourage them to return, and automatically offering recourse (coupon, discount, etc.) to customers who had a poor experience until you can address what went wrong. Most importantly, for the businesses who simply can't invest a ton of time in marketing and communications efforts, Ovation automates text and email marketing based on customer behaviour. It's never been easier to leave a lasting impression on your customers with a seamless in-store experience and an even better follow-up experience.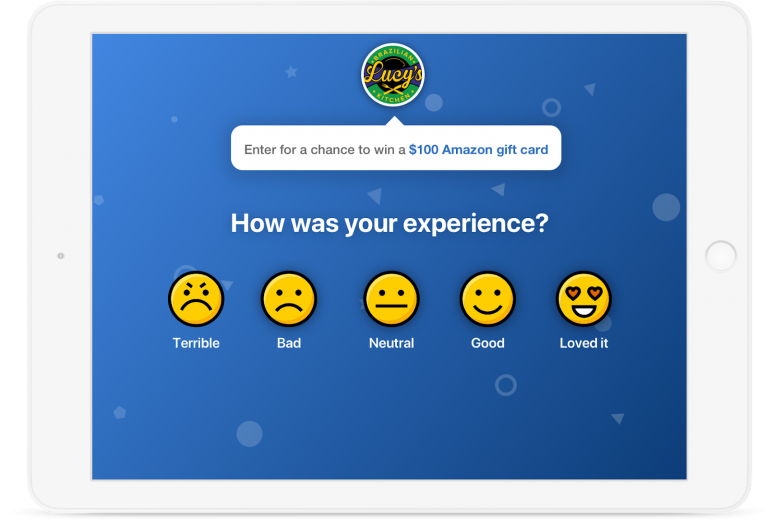 Domino's Pizza is a great example of a business that nails the customer experience. 30 locations across Arkansas have an Atmosphere screen in their "Pizza Theaters" that spell out live specials, the menu, and provide content that's interesting and timely. In a family-driven restaurant like Domino's, it can be hard to keep kids, no matter what the age entertained. Atmosphere makes that easy by offering 14 different channels with content that is both kid and adult-friendly. The result? Happy patrons who came for good pizza, but left with an enjoyable experience worth writing home about.
Aubergine, a fast-casual restaurant, utilizes Ovation's customer feedback platform to stay connected with their customers and to maintain brand quality across their multiple locations. Aubergine quickly learned the value of customer feedback when they received a message in their Ovation app from an unhappy customer, frustrated that the serving sizes at the restaurant had gotten smaller. Management, knowing that serving sizes should not have changed, connected with the location this customer had visited to investigate the issue and discovered that food preparers had mistakenly been using the wrong sized measuring cup in food preparation. Aubergine was then able to correct the issue at this location and quickly respond to the discouraged customer to apologize for the mistake and offer them a deal to bring them back in. The unhappy customer expressed amazement at how quickly Aubergine responded and that their feedback had actually been listened to, creating a loyal returning customer.
Don't miss out on tools that can help make your business successful. It's no longer enough to serve a good product to your customers — you need to do everything that you can to keep them engaged and capture their head space. Atmosphere and Ovation make it easier than ever to do that, whether it be with seamless digital signage, a loyalty program that sticks, or post-visit communications.

This article was written in coordination with Atmosphere, to learn more about their services click the button below.